NEW YORK CITY
New York City is one of my favorite American cities and I spent many of my young days traveling throughout this exciting destination. My American folk art prints of New York are filled with the eclectic activity that is so normal in New York. Times Square is a favorite and hums with action. My Times Square folk art limited edition print and note card are easily identified as "New York City". Christmastime in New York is spectacular with the lights, store window displays and of course the perennial Tree at Rockefeller Center at the ice skating rink. During a trip to New York about 15 years ago, I knew that I had to paint the Tree at Rockefeller Center and it has been such a successful painting! It is now reproduced as a limited edition folk art print and giclee, folk art note cards, folk art puzzles and Christmas ornaments. The puzzles are sold at the Metropolitan Museum of Art in New York City and at Barnes and Noble stores in the US.

A highlight of the Thanksgiving season is the Thanksgiving Parade in New Your City. My folk art painting of "New York Parade" is my rendering of that magnificent parade with Santa Claus arriving in a huge sled accompanied by his elves and the Rockettes. Giant balloons line the sky with characters from the newest films to the old time favorites. Folk art limited edition prints, folk art note cards and ornaments of this painting are all available online.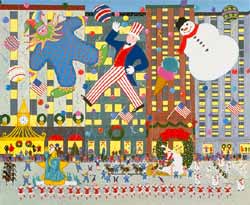 New Years is another favorite holiday in New York City and the Chinese New Years parade is filled with costumes, dragons and wonderful music. My folk art painting entitled "Chinatown" shows the parade with a colorful dragon and many spectators enjoying the day lining the street with the Chinese stores as a backdrop. This original folk art painting is 16 x 20 and has been reproduced as limited edition giclee prints, folk art note cards and small prints.
Shop for NYC Limited Edition Prints.